What can you get for $15? Oh, just something awesome.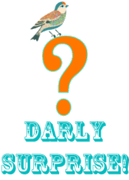 If you love deals and surprises, then you have to fly on over to
CMP favorite Darlybird
and snatch up one of their very limited and very discounted Bags O' Goodies.

Yes, a Bag O' Goodies.

Here's how it works: Pay $15 for your
Bag O' Goodies
, and the web shop's own curator, Rachel, uses her exquisite taste to hand-pick at least $45 worth of accessories, stationery, vintage tags, and other adorable extras just for you. That's a 66% discount, mamas.

[don't miss a special CMP discount after the jump!]
Some of the goods are limited editions, some have never been listed, and some are one-of-a-kind. Rest assured that, as with the rest of the store, if you love whimsy, you're in very good hands; our readers who gave it a shot last year wrote to us thrilled with what they got.

How much do I love the concept? I just ordered one myself, and one of these gorgeous
vintage bracelets
, too. I don't normally do what birds tell me to, but this little bird is onto something good.~Delilah

Order your
Bag O' Goodies
now (HURRY!) and check out the other whimsical finds from
Darlybird
. In fact, save 20% off all purchases except the grab bags (which are already cheap cheap) with code DARLYCMP.