How cool is that? Finally some diversity on the runway. I personally would love to see more variety on the runway both in ethnicities and especially regarding AGE! Just because a woman is 35, 40, 45 or 50 doesn't mean she's not model or runway material - doesn't mean she's old and washed up - doesn't mean she's not beautiful and elegant. Age is a number and personally as someone over 40 - I think I have a bit of a life and experience under my belt that makes me a much better person today than I was in my 20s. Plus when I look through the magazines for wardrobe ideas, I really don't want to be trying to picture something on my curvy frame that is on a stick thin 17 year old. Seriously - the idea of classic tailoring for work and fun for me is completely different from some 15, 16 or 18 year old.
Any woo, back to my original story about Veruschka and her debut on the runway at London's Fashion Week.
First Supermodel Walks Runway
71 year-old Veruschka proves beauty is ageless.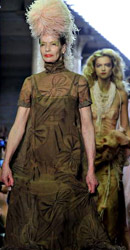 The time when teenage, waif-thin models ruled the fashion scene may be over.

That was the sign when 71 year-old supermodel Veruschka walked the runway at
Giles Deacon's fantastic Spring/Summer 2011 fashion show
during London Fashion Week (Bing:
See photos of Veruschka's best modeling years
)

Wearing a feather boa headdress and long, bow-print gown, the 1960s icon, considered the world's first supermodel, staged the finale—proving everyone can look fabulous at every age.

Deacon's brightly-colored show featured other star models too—and they weren't rail-thin like typical fashion shows.

The cast included bikini-clad Victoria's Secret model Alessandra Ambrosio, Karolina Kurkova, sporting a short disco dress, and Kelly Brook, flaunting her voluptuous figure in a low-cut printed dress. Coco Rocha, who has taken a strong stance against too-skinny models, also made an appearance, wearing a stunning long brown floor-length dress.

Photo of Veruschka at Giles Deacon Spring/Summer 2011 Fashion Show courtesy of Gareth Cattermole/Getty Images.
Veruschka von Lehndorff Is London's Top Model
London's runways are typically a launch pad for newbies. In seasons past,
Kirsi Pyrhonen
,
Julia Nobis
, and
Tati Cotliar
all made their catwalk breakthrough via the Big Smoke's innovative shows. This season proved to be another story.
New Jersey's
Kirby Kenny
had a strong showing, opening for
Erdem
and
House of Holland
and closing for
Sass & Bide
. Runway fixture
Lisanne de Jong
hit it big this week when she opened for
Burberry
, while Burberry Beauty face Nina Porter closed out the show
in the most memorable way possible
. Good ol'
Aggy
opened for
Giles
, but it was the show's closer, the legendary 71-year-old Veruschka von Lehndorff, who takes the crown. Giles Deacon has a habit of dragging out some of fashion's most iconic faces for his shows, but booking Veruschka was easily his most impressive casting coup to date.